Back
15.12.2022
At the heart of the LONZA digital training concept in Visp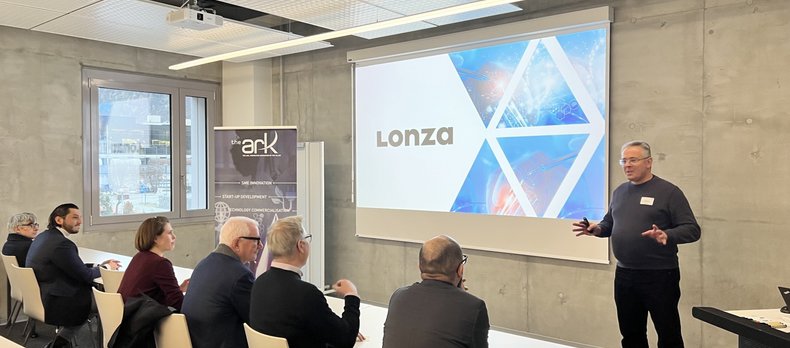 How do you attract and retain talented workers in the biotech industry? And how to train new recruits efficiently? The LONZA site in Visp has developed a training tool using virtual reality. To date, more than 250 people have been trained using this new technology.
Organized by the BioAlps association and the life sciences technology site BioArk Visp, the last 4à6 event of the year, which took place on December 13, invited participants to a tour of LONZA's training facilities in Visp. Virtual reality training sessions as well as a visit to the training laboratories allowed them to fully immerse themselves in the training concept of the multinational.
Michael Moedler, Head of Training at LONZA, took the opportunity to highlight this innovative training project.
How did the project start?
We were looking for new ways to train and we knew that NASA, the US Army and surgeons were already being trained using virtual reality. With the massive growth of our infrastructure, including the Ibex complex (in Visp), we knew that we had to train about 200 to 500 employees every year. We can't train them in the labs, with real equipment, because sometimes the equipment is not yet installed, or it's in operation and access to the clean rooms is limited. Virtual reality seemed to us to be the perfect solution.
What are the results of this experiment?
We now have over 10 modules running and have been able to reduce the time to work by 60%, which is truly remarkable!
If you train with real equipment, you have set-up times. Whereas in a virtual reality training session, you're just going back and forth with the task you need to master. It's really a great solution for training people when you have to repeat the movements of certain procedures many times.
Trainees can learn at their own pace, repeating certain sections until they feel comfortable. There is no need to have a trainer next to them. We can also train people from different countries at the same time in a virtual room.
Does it also make the training more fun?
Many people have told us that virtual reality is only for computer geeks and that it is not suitable for the real world. We invited our executive committee to take part in a training session. They put on the helmets and they didn't want to come out! After testing it, they saw the potential of this technology. The immersive experience is really great and the training becomes more effective.
Has the implementation of this technology had any other impact on the company?
The technology is really appealing and gets people excited. We give courses to students at the HES-SO Valais / Wallis. They were very enthusiastic about joining us and seeing what's going on within LONZA. It's also marketing in our quest to attract and retain qualified workers.
Source : BioAlps Association